Do you want to start a new membership site or just want to transfer an existing WordPress website to a fully functional membership site? If so, then you are making a great choice for making money from online. Nowadays, membership website is a money making machine for many website owners.
And the best part is, making a membership website with WordPress is just a piece of cake, where you can get an endless option of making a membership website just by using a fruitful WordPress plugin. There are lots of WordPress membership plugin available in the marketplace, but you need to choose only the best WordPress Membership Plugin that suits your business needs.
So, if you are interested in building an online course selling website or just a list of loyal registered members that could help you in generating a recurring income, then a WordPress membership plugin can just be the best bridge between your membership site and your customers.
What is a membership site?
A membership site is a website that offers services or products which include online courses, e-books, webinars, podcasts or any kind of similar product or service to their members for free or paid subscription. It is an online business where the visitors can access digital content or get services after getting their membership or by getting their subscription plan.
This kind of website are specially built where the contents are kept behind a secure barrier and the visitors can get their required content or service only after being a member or buying the subscription plan. And to create a fully running membership website, you will just require a simple membership WordPress plugin to transfer your regular WordPress website to a membership website.
What are the benefits of Creating a WordPress Membership Website?
There are many ways to make money online and membership websites are one of them. With a membership website you can create a product or service which you can sell to other peoples those who requires it. So, let's see what are the benefits that you can get from a Membership Website.
Easy to set-up: A membership website is easy to set-up. You can take advantage of the most popular CMS – WordPress, that can help you create your membership website in a fly. You just need to choose a proper theme that matches your taste along with a proper membership plugin that can fulfill all your business needs.
Easy to maintain: Maintaining a WordPress website is pretty easy and requires fewer efforts. You can update your theme, plugin or the core WordPress files with just a single click. Rather than solving technical glitches, you can spend your entire time and energy in creating quality content or products for your members, due to the ease of maintenance.
Consistent and reliable passive income: With a membership website you can generate recurring revenue by offering your members with premium content, product or services for which they are will to pay. This can help you generate a team of loyal followers with a steady passive income.
Helps in building an Email list: With a membership website, you can build a bigger and potential email list that can help you in cross-selling and up-selling other products. You can also use this email list for promoting other businesses too.
Generate customer loyalty: With powerful and evergreen quality content available on your website, you can generate customer loyalty.
What features should you look in a Membership Plugin?
Ease of Use: If you are not a technical person then you might think of choosing a membership plugin that is easy to use and can fulfill your business requirements. There are lots of plugins in the marketplace that comes with a complete set of features, but their interface will be bloated with too many options which you will never require. So, you should choose a light-weight plugin that can just serve your business purpose without bloating with too many options.
Compatibility: Before choosing a membership plugin for your website, you should always check its compatibility with your current WordPress Membership theme and other plugins. You can do this by going through its features or by installing it in your local testing environment.
Multiple Membership Levels: Are you planning to provide the same content or service to all of your subscribers or you want something more where you can provide your subscriber with multiple content and services to choose from. If you want your subscribers to choose their choice of option from your various plan then you should definitely go for a plugin that can offer Multiple Membership Levels.
Payment Gateways: As you will be selling a paid membership for your digital products or services, your plugin must have the ability to communicate with a payment gateway and provide you an eCommerce support. This will help you providing the feel of money flowing to your bank account.
List of best WordPress Membership plugins
Now, as you have got an overview on the WordPress membership plugin, so without wasting any more time let jump on to see what are the top WordPress membership plugin available in the marketplace that could be a lifesaver to grow your online business to a new height.
MemberPress is the perfect all-around WordPress membership plugin which is very powerful and easy to use that comes with all sorts of essential features along with several add-ons. It is easy to install and simple to use. All you need to do is install the plugin, set-up the payment gateways along with the products and boom your membership website is ready to be live.
MemberPress comes with all sorts of features like unlimited membership levels along with several payments and trial period options, where payment gateways like PayPal, Stripe, Authorize.net can be easily integrated with your membership website. It also comes with "Membership Groups" where you can set up different upsell and upgrade campaigns directly from its dashboard.
MemberPress allows content dripping where you can restrict an entire categories, pages, file, content or certain part of content and show it to your user after a certain period of time. It also comes with pricing, login, account, thank you pages. MemberPress gives you the full control over coupon codes, you can select a discount percentage or fixed amount, expiration dates, alter the coupon codes, and much more.
With MemberPress you marketized your website as it can be easily integrated with MailChimp, AWeber, MadMimi, ActiveCampaign and other several email marketing platforms. And if you are thinking of affiliate marketing then integrating with AffiliateWP, Affiliate Royale can just do the work for you. You can also integrate with Amazon Web Services and BluBrry for a podcast. And if you want to build a website for online courses, then you can easily integrate with LearnDash, one of the most popular learning management systems.
Features of MemberPress:
Unlimited Members
Unlimited Memberships
Unlimited Restricted Content
Self-Serve Member Dashboard
Customizable Registration Form
Multiple Memberships Per Member
Affiliate Royale Included
Payment and Locking Features

Unlimited Upgrade Paths
Automatic Upgrade / Downgrade Prorations
Full Subscription Management
Full Transaction Management
Discount Coupons
Custom Trial Coupons
Unlimited Access Rules
Lock Specific Pages, Posts and Custom Post Types
Lock Children of Pages and Hierarchal Custom Post Types
Lock Content by Post Type, Tag, Category, Taxonomy and URI
Lock Standalone Files
Lock Specific Content with WordPress Shortcodes
Content Access Dripping
Content Access Expiration
Simple Payment Setup
Complete Tax Handling
Automatic VAT Tax Handling

Tools and Options

Force SSL on Registration Pages
WordPress API (hooks, functions and more)
Automated Reminder Emails
Comprehensive Reporting
Multiple Unauthorized Access Methods
Password Strength Meter
Terms of Service on Checkout
Advanced User Flow Options
Custom Registration and Account Fields
Advanced Paywall Options
Full Spanish Translations
Fully Translatable to Other Languages

Built-in Integrations

If Menu
BBPress
Blubrry PowerPress
Avalara Tax Rates
Quaderno VAT Tax

Add-on Integrations

AWeber
Constant Contact
GetResponse
MailChimp
MailPoet
Mailster
Math Captcha
MemberPress Importer
MemberPress User Roles
Active Campaign
Amazon Web Services
BuddyPress
ConvertKit
Corporate Accounts
Developer Tools
Drip
HelpScout

Payments Integrations

Stripe
PayPal
Authorize.net
---
aMember Pro is easy to use, powerful and one best WordPress membership plugin in our list. It comes with numerous payment systems like PayPal, CCBill, ClickBank, JVZoo, 2Checkout, Stripe, Authorize.Net, along with 200 more. It also comes with an email newsletter opt-in, a helpdesk, affiliate management, and a shopping cart that can bump-up your business.
It is built with PHP script that can be installed on your web hosting server to get its access, but you don't have to worry about that as you can use the free WordPress plugin to easily integrate it with your website. But it is not a native WordPress plugin so you might have compatibility issues with some of WordPress plugins and themes. It also comes with video support that can help you with a quick setup.
aMember Pro allows unlimited membership levels, unlimited product and set their dynamic prices. It also provides a complete Member Management System where you can add, edit, or delete any customers and their subscriptions. The plugin is 6 language translated ready that you can set up from the admin dashboard to your site's frontend.
Features of aMember Pro
Unlimited Membership Levels and Items
Incremental Content Delivery
Payment Systems Integration
Full-Featured Member Management
Automated Signup and Expirations
Integrated Modules
Translated into 6 languages
One-Time Payment
Membership Management

Everything you could expect from subscription software
Coupon Codes
Flexible Signup Forms
Fail-back Payment Processor

Third-Party Scripts Integration

Unique to aMember Pro
Manages third-party script customers database
Numerous scripts integrated
WordPress, vBulletin, XenForo, Drupal and more
Full WordPress integration
WordPress Theme integration
You may integrate more than one script

Built-in Affiliate Program

Can correctly handle recurring billing
You can make all members into affiliates
Payouts can be made to PayPal, Moneybookers, or with checks.
Flexible Commissions
Award your power affiliates

E-Mail Management

Manage your own e-mail lists
E-Mail Throttling
Select E-Mails to selected customers
Setup Auto-Responders
Expiration E-Mail Messages

Access Control

Can control different types of content
Flexible access control
Drill-Down Content Access
HTML-login forms instead of popup login box
Access Sharing Prevention
Protect Files
Create Pages

Technology

Written in PHP
Uses standard libraries
Easy to make new theme
You get full source code
---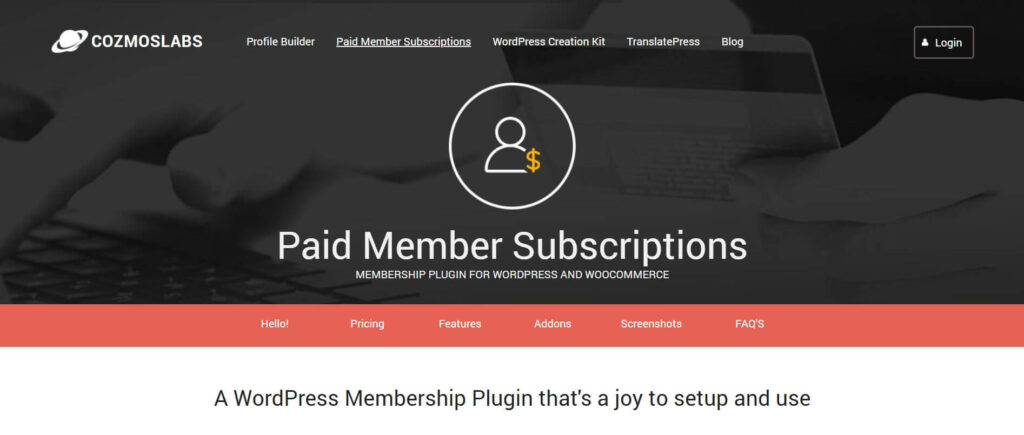 Paid Member Subscription is flexible, light-weight and easy to use, it comes with a simpler platform loaded with several powerful features. This WordPress membership plugin is available in three version – free version and two premium versions. The free version provides enough functionality to get your membership website live and running.
Just by using the free version, you can build a fully-functioning membership site using multiple membership levels, content restrictions according to the membership level, built custom front-end login and member registration forms and so on. But as you know free versions comes with certain restriction, so to available the added features you need to go for the premium one.
With premium Paid Member Subscriptions, you can create parameters for automatic content restriction, drip your content, offer discount codes, additional payment options and additional payment gateways. You can even setup and accept recurring payments, a members-only forum using bbPress or integrate with WooCommerce to offer special discount and so on.
Features of Paid Member Subscriptions
Paid & Free Subscriptions
Account Management
Restrict Content
Easy Login
Member Management
Subscription Management
Free Trial and Sign-up Fees
Payment Management
Email Templates
Basic Reporting
Export Member Data
Prevent Account Sharing
Profile Builder Integration
Elementor Integration
WooCommerce Integration
Restrict Products
Restrict Entire WooCommerce Shop
Create Member Discounts
Addons

Global Content Restriction
Discount Codes
Email Reminders
Navigation Menu Filtering
bbPress
Fixed Period Membership
Pay What You Want
ReCaptcha
Labels Edit
Tax & EU VAT
Group Memberships
Recurring Payments for PayPal Standard
PayPal Express
Stripe
Invoices
Content Dripping
Multiple Subscriptions Per User
---
Yes, you guessed it right, it is from the makers of WooCommerce, WooCommerce Memberships is built on WooCommerce, it is not a standalone plugin. So, if you are an online store owner and your store is built with WooCommerce than this WooCommerce Membership is one of the best WordPress membership plugins for your website.
With this WooCommerce Memberships, you can either sell your memberships as a standalone product or can even tie them to be a part of product purchase. You can also choose to drip content to your members based upon tags, categories, specific posts, pages or projects. You can also combine this plugin with WooCommerce Subscriptions to get the added advantage during the free trails.
WooCommerce Memberships also allows you to use all the WooCommerce compatible payment gateways like PayPal, Stripe, Amazon Payments, Authorize.net and many more. Using this plugin, you can also provide your members with a special discount on their purchase.
Features of WooCommerce Memberships
Sell or Assign Memberships

sell a membership as stand-alone product — create a product for the membership, then tie the plan to that product to sell it
grant access to a membership as part of a product purchase — i.e., buy a subscription for a meal box, get access to the recipes section for free
grant access to the same membership from several products (i.e., a yearly purchase or a monthly subscription)
assign memberships manually for an invite-only members area

Strategically Grant Content Access
Turn Your Store into a Purchasing Club
Offer Better Shipping Options to Members
Reward Members with Special Discounts
Automatically Show Members Their Perks
Import or Export Members
Simplify Communication with Members
Memberships + Subscriptions

Memberships can use recurring billing (i.e., monthly payments) for the membership rather than a set term (such as a year)
Memberships can use Subscriptions as a payment plan, but control access length itself to support installment payments
Free trials can be used for the membership via a subscription
Content restriction and dripping can include or exclude free trial periods so you control what content is available in trials
Members can pause their own memberships by suspending a subscription
Members can upgrade or downgrade memberships by switching a subscription
Upgrades and downgrades can leverage Subscription's proration to ensure that membership costs are accurate

Selling Memberships to Companies or Groups
---
Ultimate Membership Pro – WordPress Membership Plugin is one of the best WordPress membership plugins, it is an all-in-one solution for every online membership business. This plugin has got a rating of 4.5 stars, providing a smile to more than 21,000 happy customers.
With this plugin you can secure your content with all sorts of levels – you name it Ultimate Membership Pro will deliver it. You can restrict Pages, Products, Categories, Keywords, any URL, Content Sections, Images, Menu, anything and set a Redirect or Replace Content Rule.
By getting Ultimate Membership Pro activated, your members can login with some of the most popular social networks, they can also choose to sign up with Facebook, Twitter, Instagram, Google, and others too.
Some of the key features of this plugins are Restrict Content, Membership Management, Private Content, Restrict Access, WooCommerce Membership, WordPress Membership, various payment gateways, drip content, Sell subscription via WooCommerce, nine integrated email marketing platforms and many more.
Features of Ultimate Membership Pro – WordPress Membership Plugin
Multi-Levels
Unlimited Paid/Free Membership Levels
Content Lockers protect
Payments Gateway: PayPal, Authorize.net, Stripe, 2CheckOut, BrainTree, Payza, Bank Transfer
Sell Subscriptions via WooCommerce platform
Trial Free/Paid period
Drip Content protection
Restrict Pages or any URL
Subscriptions Plan
Multi Payments option
Login Predefined Templates
Register Predefined Templates
Menu Protection
9 Email Marketing Platforms integrated
Visual Composer Integrated
Keywords Restrictions
Social Login with 7 Social Networks: Facebook, Twitter, Google, LinkedIn, Instagram, VKontakte, Tumblr
5 Predefined Social Buttons Layouts
Double Email Verification
Dashboard Stats
Unlimited Registration/Profile Fields
Restricted Fields based on Levels
Redirect or Replace Content Page
WordPress Users Synchronize
Members List Showcases
Search Option into Members List
Pagination settings into Members List
Custom Currencies
Coupon Codes discount
Bulk Coupons builder
Customizable Email Notification Templates
Custom Inside Content Locker
Special Custom Fields: Profile Image, Upload Files, Multi-Select
Conditional Logic Register Form
Verify Code/Question field
Professional Account Page – Custom Content, Subscription actions (Renew, Cancel, Delete)
Custom Redirect Links
Multiple Predefined Shortcodes
Custom Dashboard Access
Taxes related on user Country
Country special custom field
BuddyPress Account Page Integration
WooCommerce My Account Integration
Download Monitor Add-on
WP Social Login Integration
Invoice on Orders with custom Templates
List of Access Posts available for current Users
Individual Page for each Users Account once is created
Pushover Notifications for Mobile notifications besides the regular Emails
User Reports available only for Admins for a better user tracking
Subscription Delay let you set when the Subscription will start, also.
Level Dynamic Price – user decides the paid price between some specific limits
Security Login to avoid brute-force attacks.
Membership Badges with custom Images.
WordPress workflow Restriction based on Levels/Subscriptions.
Filter & Search options into Members Directory
Pagination into Members Directory
Predefined Templates for Public Profile Page.
Gravatar and BuddyPress Avatar synchronization.
MYCred Integration for rewards points based on Subscriptions.
API Module for external Calls
Custom Account Page menu tabs
Predefined Templates for Public Profile Page.
Limit Comment submission based on assigned Subscription
Limit Post submission based on assigned Subscription
Integrated with Ultimate Affiliate Pro
Flat & modern Design
Ready-to-User once is installed
Multiple reminders Notifications
Provides Discount for Woo Products based on purchased Levels/Subscriptions
Drip content Notifications
Import Users & Levels via CSV file
Sell SubSites based on Levels/Subscriptions into WP Multisite environment
---
Restrict Content Pro is from the creators of AffiliateWP and Easy Digital Downloads, it is one of the best WordPress membership plugins available in the market. With Restrict Content Pro you can offer your members with an array of premium subscriptions along with an unlimited number of subscription levels.
Restrict Content Pro lets you create user roles after a subscriber gets successfully register, unlimited free and trial subscriptions, flexible pricing options like a one-time fee, a fee for a specific amount of time or both. If you wish to provide your subscribers with an option to upgrade or downgrade their subscription plan at any point in time, Restrict Content Pro lets you achieve that too.
With Restrict Content Pro you can provide your registered users an exclusive discount coupon codes with a variety of promotional options like a flat-rate discount or a percentage, set expiration dates, or you can even limit the number of uses of each coupon.
Restrict Content Pro provides features like Stripe, PayPal, Braintree, MailPoet, MailChimp, email manager, CSV export, and many more. You can integrate this plugin with payment gateways 2Checkout, PayPal Website Payments Pro, PayPal Express, Authorize.net, and Stripe Checkout. It also provides you the ability to create custom user registration and login forms, and restrict your content with a simple shortcode.
Features of Restrict Content Pro
Customer Dashboard
Membership Levels
Prorated Upgrades and Downgrades
WooCommerce Integration
Built-in Integrations
Data Export
Discount Codes
Member Emails
Membership Management
Reports
Member Approval
Add-on Features

Group Accounts
Drip Content
MailChimp Pro
Custom Redirects
WooCommerce Member Discounts
Site Creation
AWeber Pro
ConvertKit
ActiveCampaign
Restriction Timelock
Restriction Timeouts
Restrict Past Content
Hard-set Expiration Dates
Help Scout
REST API
Math Verification
IP Restriction
AffiliateWP
Authorize.net Payment Gateway
WP Job Manager
EDD Member Downloads
EDD Member Discounts
EDD FES Vendor Limits
EDD Wallet
Limited Quantity Available
Download Monitor
Campaign Monitor
MailPoet Add On
BbPress
CSV User Import
Enforce Strong Passwords
---
Paid Memberships Pro is a fantastic option to build your premium WordPress membership websites. It comes with several sophisticated tools that provide you to achieve a full functionality membership website. Paid Memberships Pro comes with its own dedicated WordPress theme, so you don't need to worry about its compatibility.
Features like unlimited membership levels, recurring billing cycle, one-time fee, free trial or discounted trial period come with this Paid Memberships Pro plugin. You can also restrict content for a specific post, pages, an individual file or an entire category.
Paid Memberships Pro also enables you to display a small snippet of your restricted content to the non-paying members that could lure them to pay for getting the full access of your content. Besides that, it will also help your content to rank in the SERPs too. It also provides the option to drip release content over time.
With the Paid Memberships Pro, you get an advanced advertising option, where you can display ads to a specific membership level. For example, you can display ads only to free membership tiers, while hiding the ads from the premium members. It also includes plenty of integrations with email marketing services and payment gateways.
Features of Paid Memberships Pro:
Membership Levels

Custom Membership Levels Page
Registrants are WordPress Users and Members
Structure Access However You Want

Payment Gateways
Flexible Pricing and Trials

Initial Payment
Billing Cycle
Price and Membership Term
Custom Trial Options

Content Access by Level
Member Reports

Reports Overview
Visits, Views, and Logins
Sales and Revenue
Membership Stats

Search Engine Optimized
Support Community
Customize Advertising

The pmpro_displayAds() Function
Third-Party Ads Plugin Support

Email Notifications
Totally Theme-able
100% GPL
---
S2 Member is another best WordPress membership plugin that comes with free as well as premium versions. So, if you are in a hunt to build your WordPress membership website with a free membership plugin then S2 Member might be the best choice.
With the free version of S2 Member you can avail features like restrict content by categories, post types, and posts or pages. You can even restrict specific snippets of content within posts, specific URL fragments, file downloads, streaming media, and BuddyPress too.
The free version also provides IP restrictions, a variety of email templates, and custom login welcome pages. But the downside with the free version is it is limited to 4 paid membership levels and lacks the ability to create coupon codes or drip content.
So, to get more out of it and make your membership site stand out from your competitors you might need to reach out for the premium version of this plugin. Where you will not only get all the premium features that are required to run a fully functional membership site, but also the complete documentation, video tutorials, and email support that will help you to build and maintain a membership site forever.
Features of s2Member
PayPal Standard Button Integration
PayPal Pro Integration w/ Pro-Forms
Stripe Integration w/ Pro-Forms
Authorize.Net w/ Pro-Forms
ClickBank Button Integration
WordPress Roles/Capabilities/CCAPS
Open Registration Option
Content Restriction Options
Alternative View Restrictions
Brute-Force Login Protection
Unique IP Restrictions
Security Encryption Key
Shortcode Conditionals
File Download Restrictions
Protected Audio/Video Streams
Manual Account Creation
Custom Registration/Profile Fields
Custom Login/Registration Design
Customizable Email Templates
Custom Login Welcome Page
Custom Membership Options Page
Member Profile Modifications
Mailing List Integrations
Affiliate Program Integrations
bbPress/BuddyPress Integrations
Compatible w/ Caching Plugins
Security Badge/Certificate
Event-Driven API/Notifications
API Functions/Constants
WordPress Hooks/Filters
Optimized Codebase
Access to Source Code
One-Step Registration/Checkout
Unlimited Paid Membership Levels
Powerful Pro-Form Shortcodes
Free Registration Pro-Forms
Anti-spam Security Measures
Simultaneous Login Monitoring
Content Dripping Shortcodes
Import/Export Tools
Pro Login Widget/Summary
Coupon Code Configurations
Gift/Redemption Codes
Public Members List
Shortcode Extras
Multisite Network Support
Customizable Pro-Form Templates
Remote Operations API
WooCommerce
---
If you are creating a membership website for selling online courses, then LearnDash is one of the best WordPress membership plugins for your case. In fact, LearnDash is one of the most popular WordPress Learning Management System (LMS) plugins that is extremely easy-to-use and comes with lots of integrations, membership modules, and powerful administration capabilities.
LearnDash comes with a drag and drop course builder that helps you to create multi-layer courses based on categories, lessons, topics, assignments, and quizzes. It also provides a Member Management Dashboard from where you can get complete control along with a detailed report over the progress of your courseware of each member.
Selling online courses has never been so easy, thanks to LearnDash. This plugin provides an automatic email notifications option which can be sent to your individual members along with their progress report to encourage their engagement.
It comes with an amazing feature that enables your members to unlock new courses based on the points they earn on completion of their courses. You can reward your members with certificates, and badges on each milestone to boost up their engagement with your site. You can also create user profiles, groups, level-specific forums, and many more.
Features of LearnDash
Courses

LearnDash Focus Mode
Powerful Course Builder
Advanced Quizzing
Drip-Feed Content
Flexible Prerequisites
Dynamic Forums
Gradebook
Course Points
Certificates & Badges

Monetize

One-Time Purchase
Subscriptions
Shopping Cart
Membership
Course Bundles
Course Licenses

Administration

User Profiles
Email Notifications
Group Management
Detailed Reporting
Assignment Management
Expire Access

Tech

Tin Can API & SCORM
Multisite Enabled
Use Any Theme
Use Any Media
Mobile Compatible
Industry Experts
---
Teachable is another all-in-one platform specially built for creating and publishing online courses just by few clicks. It is easy to set-up and has the ability to run your membership website without hiccups. It comes with full-packed features like membership website, Learning Management System (LMS), discussion forum, email marketing tool, and analytics all under a single dashboard.
Teachable provides a drag and drop course builder that helps you in content creation, upload videos, PDF, text, and many more. It also allows flexible drip content features based on users' progress or subscription level. Teachable also allows you to create coupon codes, affiliate program and provide advanced pricing options to increase your sales figure.
Teachable offers built-in engagement features like contact forms, discussion forums, quizzes, surveys, certificates, etc. that can help you to build a powerful online community. You can easily integrate Teachable with Google Drive, Dropbox or One Drive to directly import your content and publish it on your website.
The one and only point that distinguish Teachable from any other WordPress membership plugins in this list is Teachable is not exactly a WordPress plugin. So, to use Teachable you need to create a link or sub-domain with your website in order to integrate Teachable into your WordPress membership site.
Features of Teachable
Customization

Create engaging multimedia lectures
Build a beautiful website
Delight students on any device
Modify any aspect of your school
Publish sales pages that convert
Use our domain to connect your own
Reach students worldwide in any language

Learning Tools

Quizzes
Course completion certificates
Course Compliance
Student feedback
Support integrations
Student list segmentation

Marketing

Coupons and promotions
Advanced pricing options
Your own affiliate programs
Customizable sales pages
Accept international payments
Virtually infinite marketing integrations
Conversion pixels support
First and last touch attribution

Analytics

Comprehensive dashboard
Course-wide student insights
Course-wide student insights
Analytics integrations
Multiple-instructor support
Student enrollments and refunds

Hosting & Security

Seamless hosting
Data ownership
SSL certificate
Secured payment data
24/7 monitoring
Instant upgrades
---
ProfileGrid – User Profiles, Groups and Communities
Whether you need a simple or complex WordPress membership site, ProfileGrid can deliver it for you. It is a simple and straightforward ready to use WordPress membership plugin. This plugin comes with a modular structure that enables you to switch on or off different user profile sections without affecting the central functionality of your site.
With this plugin, you can build communities, offer your online shoppers to create profiles, start a paid membership business, send notifications, private messaging, offer sign-ups, blog submissions just from the dashboard of your website. You can fully customize the experience to fit best according to your project requirement.
ProfileGrid allows you to create groups, have their own group leaders, badges and properties. It also comes with a multi-tier pricing option for your membership sign-ups. With ProfileGrid's private messaging system, you can easily communicate with other users discreetly and can also restrict access to a particular content according to their membership levels.
Features of ProfileGrid – User Profiles, Groups and Communities:
Group Manager to create, edit and manage groups, and set membership rules.
Custom Fields Manager to manager Profile Sections and Fields.
User Profiles area to view, search and filters User profiles and members.
Requests to manage and moderate membership requests for closed groups.
Email Template manager to create and edit email notifications for users.
User Blogs to manage user submitted blog posts.
Global Settings to fine tune your ProfileGrid installation.
Shortcodes page to help you understand how shortcodes work.
Groups page showing a grid of Groups for users to browse and sign up for them.
Group page showing Group's details and all its members.
Profile page showing single custom User Profile with blogs and conversations.
Single and Multipage sign up forms. Latter splitting Sections into pages.
All Users page displays all members without grouping them, with global search.
Login and Password Recovery pages.
Group Attributes
Profile Attributes
Custom Field Attributes
Email Template Attributes
Restrict Content
Multi Author Blogging
Private Messaging System
Friends System
Global Setting
Security Setting
Email Notifications
Users Accounts
Tools
User Blogs
Upload Specification
Payment Setting
Search Engine Optimize
---
WP-Members Membership Plugin is yet another WordPress membership plugin that comes both in free as well as premium versions. But as you know with free version you can only get few basic features whereas the premium version will let you entertain you members with whole lot of features.
With WP-Members you can create custom registration and login forms specifically for your membership site. To achieve this, the plugin allows you to create a specific URLs for your registration page. This can provide your membership site a great benefit just by making the URLs as the lead generating landing page for your ads.
Features of WP-Members Membership Plugin
Restrict or hide posts, pages, and custom post types
User login, registration, and profile integrated into your theme
Login widget
Create custom registration and profile fields
Notify admin of new user registrations
Hold new registrations for admin approval
Create post excerpt teaser content automatically
Shortcodes for login, registration, content restriction, and more
Create powerful customizations with more than 120 action and filter hooks
A library of API functions for extensibility
Advanced Options – adds additional settings to WP-Members for redirecting core WP created URLs, redirecting restricted content, hiding the WP toolbar, and more! Also includes integrations with popular plugins like WooCommerce, BuddyPress, bbPress, ADF, Easy Digital Downloads, and The Events Calendar.
Download Protect – Allows you to restrict access to specific files, requiring the user to be logged in to access.
Invite Codes – set up invitation codes to restrict registration to only those with a valid invite code.
MailChimp Integration – add MailChimp list subscription to your registration form.
Memberships for WooCommerce – Sell memberships through WooCommerce.
PayPal Subscriptions – Sell restricted content access through PayPal.
Security – adds a number of security features to the plugin such as preventing concurrent logins, registration form honey pot (spam blocker), require passwords be changed on first use, require passwords to be changed after defined period of time, require strong passwords, block registration by IP and email, restrict specified usernames from being registered.
Text Editor – Adds an editor to the WP-Members admin panel to easily customize all user facing strings in the plugin.
User List – Display lists of users on your site. Great for creating user directories with detailed and customizable profiles.
User Tracking – Track what pages logged in users are visiting and when.
WordPass Pro – Change your random password generator from gibberish to word-based passwords (can be used with or without WP-Members).
---
Conclusion
In this article, we have listed plenty of feature-rich WordPress Membership plugins available in 2022 that could help you to run a successful membership business. We hope you have liked this list and we believe this article has helped you to find the best suitable membership plugin for your membership business.
If you think we have missed any the WordPress Membership plugins that have helped you grow your business and you think it is essential to include in this list too? Please feel free to suggest us.
Please share if you think this article can help others to archive their goals for running a successful membership business.
Thanks in advance.
---
Frequently Asked Questions (FAQs):
What is a membership plugin?
A WordPress membership plugins is a PHP coded WordPress plugin that allows you to create certain permission rules that can restrict and protect your content from the visitors, and depending on it's your configuration rule it will provide access to your members.
Does WordPress cost money?
You can get build your WordPress membership site with a plugin which is free of cost, but as you know free versions come with certain restriction, so to available the added features you need to go for the premium one.
How does a WordPress Membership plugin cost?
It depends, I mean you can use several types of WordPress Membership plugin, starting from a free Membership plugin to a premium one which may cost something around $199 or so.
What are the benefits of Creating a WordPress Membership Website?
Some of the benefits that you can get from a Membership Website are it is Easy to set-up, Easy to maintain, Consistent and reliable passive income, Helps in building an Email list and can Generate customer loyalty.
What is the Best WordPress Membership Plugin?
MemberPress is the best WordPress Membership Plugin for your membership site, but you need to know some of the essential features that are required for any Membership Plugin to deliver you the best result. Your chosen plugin should be Ease of Use, Compatibility, Multiple Membership Levels, and Payment Gateways.